I certainly made great use of EQAA when it came out and for many years after. It changed the world for the ranger of Norrath, to be sure. That said, imho, it was merely a patch to an integral problem of the game.
EQ was coded to have small stacks, and they had a lot of trouble raising those numbers for ages. EQAA, while useful, was merely the easiest way they had to fix a problem.
I would much rather have an alternative to this built into the game, rather than depend on earning something sometime in the future. As the devs have mentioned many times, the adventure of this game is the fun. The leveling-up IS the game, and they do not want there to be the "END GAME" as in other games. Instead, they want you to enjoy the whole process, from level 1 to max, rather than try and tear through all those levels just to "START" having fun...
I played EQ for many years before EQAA, or any AAs were released. Once EQAA came out, rangers were cornered into the "archer" profession, and while I enjoy that as a tool in my arsenal, I love to get in and dirty with melee weapons more often than not. For me, I prefer having a few archer abilities such as a snipe or a few CC abilities like stun etc, and then running in once the tank has aggro and showing the mob some lubbin...
In answer to the ammo problem, I think there are some ways to avoid this being either too easy, aka EQAA, or too cumbersome or bothersome:
1) Of course increase the number in a stack, up to 100 at the minimum, and also depending on how much archery we are intended to do...
2) Rangers should be able to Craft arrows, of various types much as in EQ1. I think it only natural that we get to create different arrows with different damage styles in answer to the different types of mobs to be found. In the FAQ, it mentions that different mobs are more resistant to different damage types. Skeletons are more resistant to slashing for example. Crystalline mobs are more subject to piercing damage. Give us a choice of several types of arrow, from blunt bodkins to flatheads to needlepoints, depending on the mob. I am not so sure we need to have all the choices of range, as we did in creating arrows in EQ1, except for leveling up that skill.
3) Rangers should definitely be able to forage different items in order to make their own arrows. I can understand maybe buying some special smithed arrowheads to include in a certain type of arrow, but I think most self-respecting rangers/archers would insist on making their own arrows in the first place.
4) After every fight, rangers should be able to use an ability that tries to recover arrows spent during the last round of combat. This should start as a low percentage skill that works up as one levels. For example, imagine spending 30 arrows over the last fight. Either give the ranger the choice of hitting a "Forage" ability that is an AE skill and attempts to recover arrows, say max 25% to start, and up to whatever, or give the ranger the option of looting each individual corpse, regardless of loot, in order to get an "arrow recovery" role that starts low and increases with level. This would be a separate loot check that could either result in whole arrows or arrow parts to be repaired later. If whole arrows, this would gradually extend the time needed between downtime arrow creation for the ranger. From what I have seen in the FAQ again, there will be enough forced downtime as it is. I would hate to have an aribitrary ranger arrow break that might incite a group to pick another class from the outset...
5) I remember back in the day how amazing it was to get the Tolan's armor set. Each piece was a clicky that summoned or had an effect. There was only Armor class and the clicky on each piece, so it was not an uber set to be worn all the time, but rather something to keep in ones bags in order to clicky when needed. Some of you will recall that the Tolan's Bracer was a clicky that summoned a stack of arrows. It was an imitation of the low level mage spell
Summon Arrows
MAG/20
1: Summon Item: Summoned: Arrow
, with a longer cast time...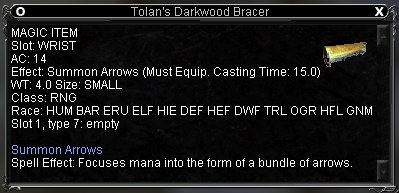 There were later upgrades to this item, with faster cast times, but for old school rangers, this will bring a smile I am sure...