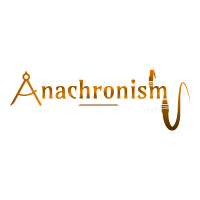 Out of its chronological order, a person or practice belonging to an earlier time.
Might be you've that Sony Walkman lying around somewhere.
Maybe when first hearing of 'Lady Gaga' you laughed, started humming 'all we hear is radio Ga Ga'.
Perhaps you prefer text over VOIP; tend to miss mirc or think fondly of it.
You may wonder how come advancement's so often synonymous with over-complicating life and what for anyway; what are you missing?
You're still around though, making do, on track, abreast of things? Still having plenty to show as it were?
Well we do too. And we aim to present.
Like Pantheon, we're of the past, loonily.. i meant happily existing in the present. We hold on to the old, selectively embrace the new. Nothing wrong with shiny!
(if you're a fossil though, we can always compare shells. Tell us about your authigenic mineralization)
We've been at this for some time now, had our back and forths, bonded through them, solidified.
And we're ready to flood the gates! ..Pardon..? Oh, open the gates, why yes. Stop interrupting me, i lose track. Where was i again. Ah yes, the flooding.
- We want boats; /thread.
- We seek individuals possessing a sense of humour, an ounce of dignity, a sliver of ethos. We seek character and all it can bring to the table. Did i mention humour?
- We're after people who can appreciate honesty, tolerate ideas or beliefs they may not share themselves. No one likes feeling constrained, so we give you the room we'd want you to give us.
- We're looking for team players, tolerating the inevitable differences, capable of putting them aside for a common goal. We're in this together, we need know we can rely on one another.
- Shinies! We'll be logging many hours and eventually tackling grouped content. Takes a different.. clientele for that league, granted, so you may be wondering how much we can really accomplish given our approach to recruiting. Well we're here to find out.
- We value age, maturity, good intentions. We're after friendship, solidarity, that sense of nobler a purpose we've come to miss as we matured and wisened; or thought we did.. but let's not dwell there!
- Impartiality's a must. You acknowledge i'm the prettiest Ogre to have walked on Terminus. Let me bat those eyelashes.
Intrigued? Post below or PM me. I'll feign an interest, pretend i care. Really, you'd never know.
This post was edited by Aenra at February 13, 2019 1:44 AM PST