"Maker's Mark"
I often wonder what makes craftsmanship so appealing to a consumer. Apart from the pride that goes into creating an item, there seems to be a connection made between quality, the level of experience a craftsman has and of course ownership of said item. For instance, say you have a sword, the level of detail that could be delivered with a robust crafting system is for a different topic all together, but the relevance here is each step that is taken through the process, and the amount of efficiency that was achieved along the way.
In the crafting of this sword say you have the below example: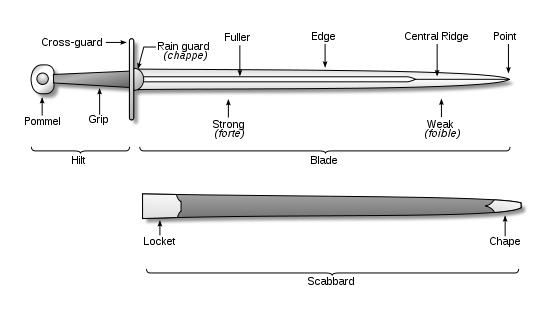 (compliments the middleages.net ;) )
While some parts could be combined as a whole (ie, perhaps they do not wish to go to this degree, I mean blade, cross guard, grip, pommel and scabbard should give depth enough). It is each pieces quality that determines the end product.
With my previous idea, (to create runes, or give a weapon magic attributes) a special tool could be crafted as a Master craftsman. The similar level of detail could be given to the tool, where you have the seperate parts of the tool, (haft, head of hammer, the runes themselves, and whatever binding agent is required to combine it all).
If you have a tool that only comes out at 80% efficiency, it would only add 80% of its bonus to your weapon (that is to say that the runes would only be 80% of their potency), and the Mastercraftsman could either choose to add his name to it (perhaps there could be a naming convention, where the attributes determine what the weapon is called) or given the opportunity, to continue to work on making the part of the tool a higher quality.
This could be achieved by removing the runes from the head of the tool, and recasting the part of the tool that negatively impacted the overall quality. The runes themselves would likely be found items within the world. They could have relevance to the story, perhaps they are ogre in origin (which could impact the weapon similarly to whatever the Ogre natural abilities are, str con, etc.) or from an ancient civilization that is only known through myth or legend. The Makers Mark would be the name of the craftsman, and since the tool is difficult to make, and takes a lot of time and effort to gather resources for, the craftsman could become known by the quality of their weapons, the bonuses that are given from their special tool and perhaps the style that they specialize in.
Hope this is a little more cohesive, as I said before I would rather this be something that adds to crafting, and not something that distracts, and it could give real depth to the "Made by" aspect of a craft.
This post was edited by VitaKorp3n at November 26, 2016 9:05 AM PST